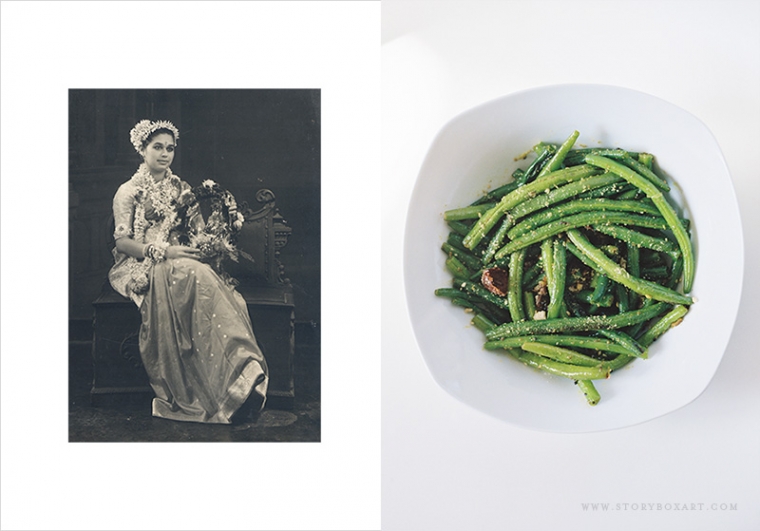 Green Beans Photo: Contax + Kodak Portra
India is a curious place that still preserves the past, religions, and its history. No matter how modern India becomes, it is still very much an old country. ~Anita Desai
I have been asked many times about the recipe for this simple vegetarian Indian dish. Thought I would share it in this post with my two loves… old photographs and indian food, both of which take me back home. This is an old favorite maternity photograph of my gorgeous mom. Back then, it was customary for women to be photographed while pregnant and this studio photograph does such a beautiful job. I adore these old photos and wish I had one when I was pregnant with my son. I love photographing maternity sessions, so please fee free to contact me for one.
The spiced green bean recipe is from the book Indian Cooking by Mridula Baljekar and one of my favorites. In India, with the diversity you find so many different ways of cooking food and make very tasty vegetarian dishes. I have modified the original recipe a bit here.
Ingredients:
1 lb Green Beans
4-6 Cloves of Garlic, peeled and chopped finely
1-2 Red Chillies, chopped or whole depending on your spice taste
1/2 tsp Tumeric (or less)
1.5 tsp Coriander Powder
2 tbsp Sesame Seeds
1/4 tsp Mustard Seeds
2 tbsp Olive Oil
1 tbsp Desiccated Coconut (optional) Can be purchased at Whole Foods or Indian Stores.
1. Wash the Green Beans and chop off the ends. To save time, I blanche the beans and retain the color. Transfer the beans in a bowl to prepare them for cooking the dish.
2. Heat a fry pan and dry roast the sesame seeds on medium heat. Once they are slightly browned, turn off the heat and let them cool off. After ward grind them in a coffee grinder (I used one only for spices).
3. Heat oil in a wok over medium heat. Add mustard seeds and once they start popping (watch for flyaways!), add some of the chopped garlic. Make sure the garlic doesn't burn.
4. Add red chillies, tumeric and coriander powder to the oil. Sometimes, I add the coriander powder later too. Add the blanched green beans. If you would rather not blanche the beans you can add your raw beans now. Add salt and keep stirring the beans on medium heat. Add the rest of garlic. If you are cooking raw beans, lower the heat to a minimum, cover the wok and cook for 20-25 min. I like mine slightly al dente so you can check the beans for the consistency and check occasionally.
5. Add the ground sesame seeds and optionally desiccated coconut which can also be ground in the coffee grinder.
TIP: I grind my Coriander powder as needed. It tastes great fresh!
Let me know how you like it! It may seem like a lot of steps but it really is pretty easy once you get the hang of it!
On another note, I will be traveling to the east coast and midwest for the next two weeks and out of the office.