The most important thing you leave behind is the stuff that turns into treasures when children find it.
~Storypeople
I adore this Storypeople quote. It made me think of sweet memories we created for baby C's family and how they will cherish them forever. When baby C grows up to be a beautiful young lady she will likely not remember her cute chubb days. But I hope that these pictures will be her treasures to have and hold on to.
We had a wonderful session with baby C's family at their home in Noe Valley in San Francisco. Mommy had ordered some cute clothes I recommended from the Gap, Baby Legs and not to forget Anthropologie for herself. Seven months. Such a wonderful age. It is my favorite age to photograph little people when they are able to sit up. And also when they can't get away from me too easily (though she was just starting to crawl and is likely a different baby today). Enjoy your sneak peek!
In the many faces on baby C, do you have a favorite? Post your favorite in the comments section using the numbering system below. I will share which one mine is too once the voting is over. Top Row with two pics- Use no. 1 for left and no. 2 for right. In the middle row with three pics- use no. 3 for left, no. 4 for middle and no. 5 for right. For a total of 25+ comments (don't have to be for one image), I will make a complimentary 5 x 7 print for the family. So vote away!!!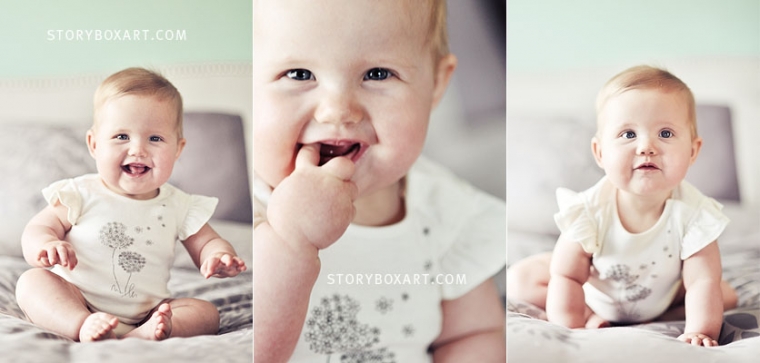 Check out the teeny skinny jeans on baby C. I wonder if they will be still a fad when she grows up?